Silver investors may be familiar with the Silver Eagle Green Monster Box (Buy on eBay). With each box containing a total of 500 Silver Eagles, this is how investors or dealers typically purchase the coins in bulk quantities.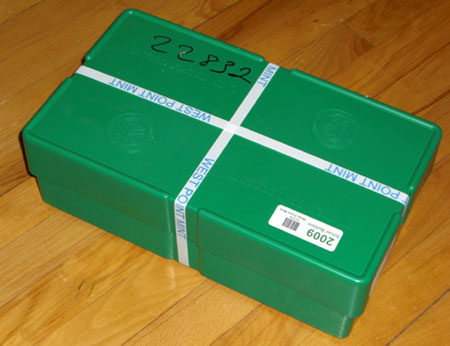 The American Silver Eagle bullion coins each contain one ounce of .999 pure silver. These are packaged into 20-coin rolls, which contain 20 ounces of silver. The Green Monster Box contains 25 of these rolls, for a total of 500 coins, or 500 ounces of silver.
What is a Monster Box?
As the name suggests, the boxes are green, heavy duty plastic, specifically created to hold the Silver Eagle Rolls. Twelve rolls fit on either side of the box with one roll in the center. The boxes are usually sealed with strapping across both lengths with a control sticker indicating the year of mintage. The United States Treasury seal is on the outside of the box.
Sealed Silver Eagle Green Monster Boxes have the benefit of being unsearched and unhandled since leaving the United States Mint. Additionally, the cost per coin is usually the lowest available since the coins are being purchased in bulk. Not all coin dealers will have these boxes available, however bullion dealers typically offer them.
Mint Identification
Later in the series, the sealed Green Monster Boxes took on an additional aspect of importance in terms of identification of the issuing mint. Starting in 2011, the U.S. Mint began producing Silver Eagle bullion coins at both the San Francisco and West Point Mint facilities. Since bullion coins do not carry a mint mark, the individual coins are not able to be identified by facility. However, the strapping included on the sealed Monster Boxes does indicate the mint facility, allowing the coins to be identified.
The third party grading services were quick to offer attribution of the issuing mint for coins submitted under certain procedures, generally within sealed Monster Boxes. The issuing mint is indicated on the third party grading holder with the mint mark included in parentheses.
< Proof Silver Eagles | Legislation >