A popular way of assembling a collection of American Silver Eagles is by acquiring an example of each coin in the series that has been encapsulated and graded by a third party grading service. Third party grading services will generally examine a coin to verify its authenticity, provide an opinion on the coin's grade and other attributes, and then encapsulate the coin in a small plastic holder. Although other services exist, the two most popular are Professional Coin Grading Service (PCGS) and the Numismatic Guaranty Corporation (NGC). Collections can be assembled this way for the bullion versions of the coin or the collectible uncirculated and proof versions.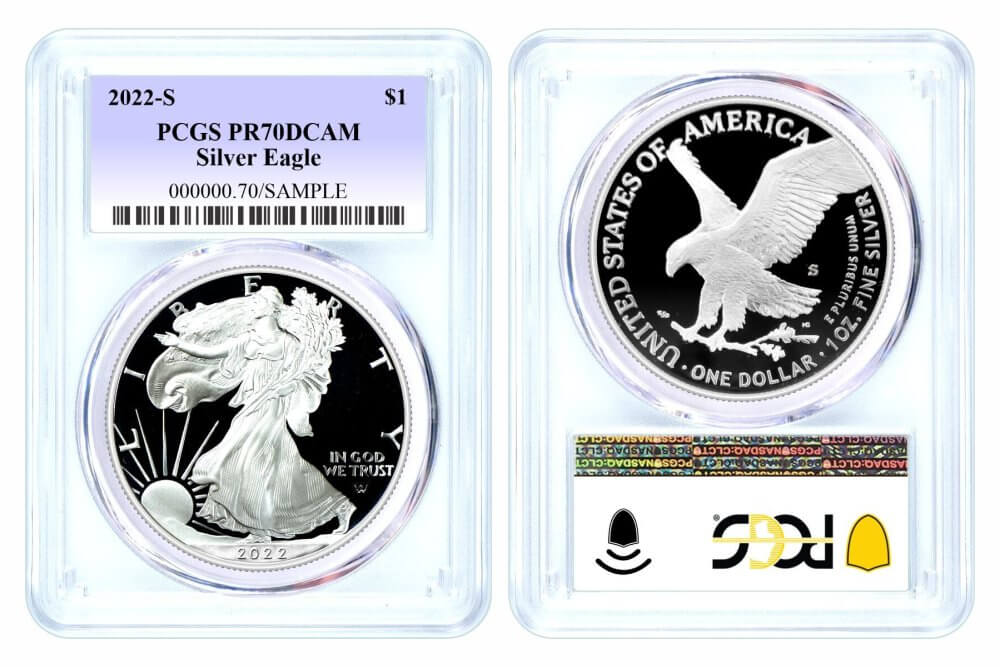 70-Point Scale
Coin grading is determined on a 70 point scale, with 1 being the lowest grade and 70 being the highest. For uncirculated or bullion Silver Eagles the highest grades awarded are PCGS MS70 and NGC MS 70 (Buy on eBay). For Proof Silver Eagles, the highest grades awarded are PCGS PR70DCAM and NGC PF 70 Ultra Cameo (Buy on eBay). The designations "DCAM" and "Ultra Cameo" refer to the cameo finish which is used on modern proof coins.
Since Silver Eagles are never circulated, nearly all coins encountered will be in the higher grades from 65 to 70. For the most recent years, it is often the case that the vast majority of coins would grade 69 or 70. Earlier dates can be a challenge to find in top grades. There are some early dates in the series for which PCGS has not awarded the top grade to any coins evaluated.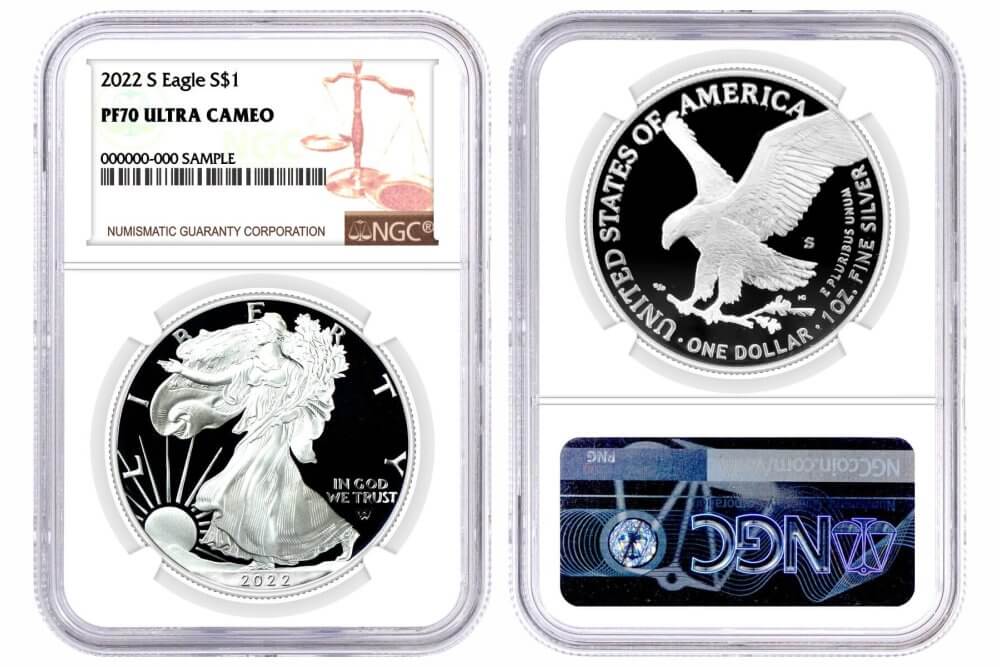 Grading Submission
In order to have coins encapsulated and graded by PCGS or NGC, collectors can submit raw coins through an authorized dealer. Both grading services now also offer collector's clubs. By joining these clubs, collectors are allowed direct submission privileges to the grading services. Because of the large number of PCGS and NGC Silver Eagles which already exist, there is a robust secondary market whereby collectors can purchase coins already graded.