The 2010 Silver Eagle (Buy on eBay) was first available as a bullion coin on January 19, 2010. Although the status of collector versions of the coin were in doubt for much of the year, the United States Mint eventually confirmed the availability of the 2010 Proof Silver Eagle (Buy on eBay) and began accepting orders on November 19, 2010.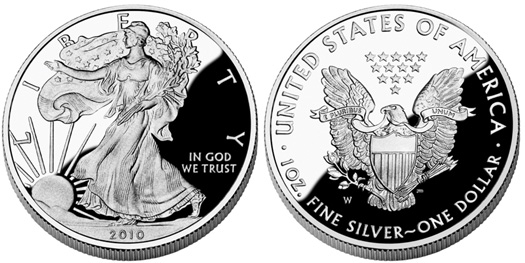 The initial availability of the bullion coins took place later than usual. Typically, coins bearing the forthcoming year's date are produced in November or December of the preceding year. This allows authorized purchasers to place orders for the coins in December for delivery in the first week of January. Amidst a resurgence in demand for bullion coins, the U.S. Mint continued production of 2009-dated coins through year end. This resulted in a delay of the full scale production of 2010-dated coins, pushing back the release schedule.
For about eight months, the available supply of 2010 Silver Eagles remained short of meeting full public demand. As such, the bullion coins remained subject to the US Mint's allocation program, which rationed the available supply of amongst the authorized purchaser network.
The end of the allocation program on September 2, 2010 signaled hope for the collector versions of the coin. These offerings had been canceled in the previous year since the U.S. Mint was required by law to produce bullion coins in quantities sufficient to meet public demand. Since full demand was not met, the Mint sourced all incoming precious metals blanks to the production of bullion coins, foregoing production of collector coins, which were not legally mandated.
Proof Coin
In early October, the US Mint confirmed the upcoming offering of 2010 Proof Silver Eagles starting on November 19, with the first coins shipping on December 1. The coins were priced at $45.95 each, with an ordering limit of 100 per household and with no maximum mintage specified. Following the cancellation of last year's coin, initial orders for the coin were heavy, with more than 700,000 coins sold in two weeks. The Mint eventually removed the household ordering limit and the coins sold out shortly thereafter, with a final mintage of 849,861 pieces.
Uncirculated Coin
Unfortunately, the other collector version of the coin, the 2010-W Uncirculated Silver Eagle, was canceled for the second year in a row.
At the very end of the year, legislation was approved which allowed the production of collectible proof and uncirculated Silver Eagles, even if full demand for bullion coins remained unmet. This change in law should ensure the uninterrupted offering of collectible offerings going forward.
During 2010, the market price of silver ranged from a low of $15.14 per ounce to a high of $30.70 per ounce. After spending much of the year between $15 and $20 per ounce, the price broke about the $20 level in September and moved up steadily though the end of the year.
2010 Silver Eagle Mintages
Bullion Mintage: 34,764,500
Proof Mintage: 849,861
Uncirculated (Burnished) Mintage: not minted
Coin Specifications
Mint Mark: none (bullion), W (proof)
Designers: Adolph A. Weinman (obverse), John Mercanti (reverse)
Composition: 99.93% silver, 0.07% copper
Weight: 31.101 grams (1.000 ounces)
Diameter: 40.6 mm (1.598 inches)
Thickness: 2.98 mm (0.117 inches)
Edge: Reeded

< 2009 Silver Eagle | 2011 Silver Eagle >