The United States Mint offered a special set to celebrate the 75th anniversary of the edifice that houses the West Point Mint. Anticipation for the set was high since it would contain the first ever American Silver Eagle featuring an enhanced uncirculated finish.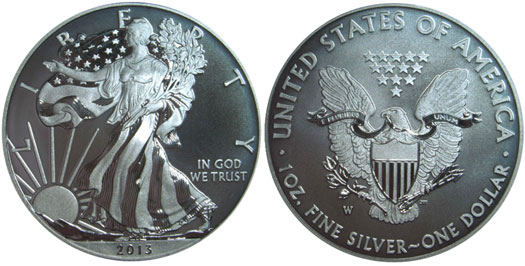 The 2013 West Point Silver Eagle Set (Buy on eBay) contained two coins bearing the "W" mint mark. The first coin featured a reverse proof finish, with the raised design elements appearing mirrored and the background fields appearing frosted, or the reverse arrangement of the traditional proof finish. The Mint had previously offered Silver Eagles with a reverse proof finish within special sets issued in 2006, 2011, and 2012.
The second coin included in the set featured an enhanced uncirculated finish, which was created by using a mixture of uncirculated, lightly frosted, and heavily frosted finishes. On the obverse, the mountains, red strikes and blue fields of the flag, Liberty's sandals, and the date carry a heavily frosted finish. On the reverse, the ribbon held in the eagle's beak, arrows, olive branch, and portions of the shield carry a heavily frosted finish. The remaining design elements or inscriptions carry an uncirculated finish. The background fields carry a lightly frosted finish. This contrast of three different finishes brought a fresh look to the classic design.
Similar to the prior year's San Francisco Set offering, the West Point Set was available for ordering only during a four-week ordering window with the sets to be produced to demand based on total orders received. Each set was priced at $139.95, or $10 lower compared to the prior year set.
Initial demand was intense when the ordering window opened on May 9, 2013, resulting in the U.S. Mint website briefly being taken offline. After less than 24 hours, orders exceeded 140,000 units, and by the conclusion of the opening weekend, orders exceeded 180,000. For the duration of the ordering period, sales fell into a lower but steady range, until a surge of orders in the final days. At the close of the ordering period on June 7, 2013, sales were indicated at 281,310, representing the highest total for any of the anniversary themed set offerings.
The 2013 West Point Silver Eagle Sets began shipping to collectors in late June, however some collectors would not receive their sets until October. The extended fulfillment process may have led to an increased number of order cancellations. After shipping was completed in late October, the U.S. Mint announced the revised unaudited sales total for the 2013 West Point Silver Eagle Set as 235,689. This represented a reduction of 45,621 units or 16.21% from the prior total. After the revision, the set was no longer the highest mintage of the four anniversary sets.
2013 West Point Set Mintage
Two Coin Set: 235,689 (last indicated sales)
2013 West Point Set Specifications
Mint Mark: W (reverse proof & enhanced uncirculated coins)
Designers: Adolph A. Weinman (obverse), John Mercanti (reverse)
Composition: 99.93% silver, 0.07% copper
Weight: 31.101 grams (1.000 ounces)
Diameter: 40.6 mm (1.598 inches)
Thickness: 2.98 mm (0.117 inches)
Edge: Reeded

< 2013 Silver Eagle | 2014 Silver Eagle >