The 2001 Silver Eagle (Buy on eBay) experienced a slight decline in sales compared to the prior year levels. However, the bullion coin mintage still exceeded the 9 million mark, which at this point was historically high for the series.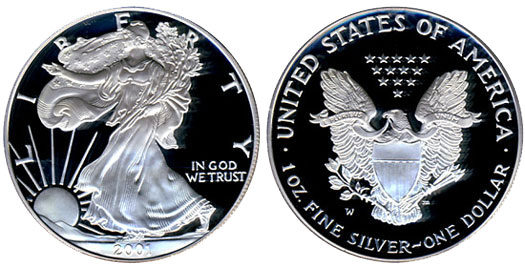 Proof Coin
Besides the bullion coin, the United States Mint also offered a collectible proof version of the coin. The 2001 Proof Silver Eagle (Buy on eBay) went on sale starting April 19, 2001 priced at $24 with a maximum authorized mintage of 750,000 coins. Notably, the U.S. Mint shifted production of the proof Silver Eagle from Philadelphia to West Point starting this year. Accordingly, the coins carry the "W" mint mark. This was the first time the "W" mark appeared on a Silver Eagle since the rare 1995-W Silver Eagle coin was minted.
Certified coin collectors will find a larger number of perfect graded proof coins in both NGC PF 70 Ultra Cameo and PCGS PR70DCAM. Perfect graded bullion coins remain somewhat elusive in NGC MS 70, and more elusive in PCGS holders.
The overall average price of silver during 2001 was $4.37 per ounce.
2001 Silver Eagle Mintages
Bullion Mintage: 9,001,711
Proof Mintage: 746,398
Coin Specifications
Mint Mark: none (bullion), W (proof)
Designers: Adolph A. Weinman (obverse), John Mercanti (reverse)
Composition: 99.93% silver, 0.07% copper
Weight: 31.101 grams (1.000 ounces)
Diameter: 40.6 mm (1.598 inches)
Thickness: 2.98 mm (0.117 inches)
Edge: Reeded

< 2000 Silver Eagle | 2002 Silver Eagle >