2019 sales of the bullion Silver Eagle continued the trend downwards that began two years earlier and hit an-all time low at that point of 14,863,000. This had a lot to do with rising spot silver prices, which began the year at $14.37 and peaked in September at $19.30 with the average for the year being $16.21.
Sales began on January 7, and for that month and February were very strong reaching over 4 million and 2 million respectively, likely because of lower silver prices. On February 21 the United States Mint ran out of coins and had to temporarily suspend sales until April 1 when they were sold on an allocated basis. Sales were stronger over the summer and early fall months, reaching over a million each month until November when they dropped to just 463,000.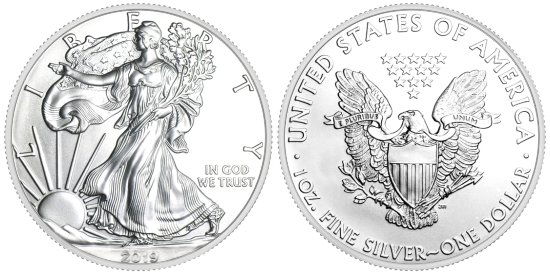 On January 10 sales opened for the 2019-W Proof Silver Eagle, which was sold individually, in that year's Congratulations Set and in dealer bulk packs. It was priced again at $55.95 and $1 more for the set. The coin sold briskly at the January Florida United Numismatists (FUN) show, but for the year sales of this coin were 375,180.
On October 13 the Mint announced that it was increasing prices for all its silver products, but most were already sold out, which meant the only product impacted at the time was the Congratulations Set whose price was increased to $75.





Special Two-Coin Joint Release with the Royal Canadian Mint
On July 3 the Mint released a special two-coin set issued jointly with the Royal Canadian Mint called the "Pride of Two Nations" Set limited to 110,000 sets, including 100,000 for U.S. Mint customers and 10,000 for RCM buyers. Featured in the set was the 2019-W Enhanced Reverse Proof – the very first Enhanced Reverse Proof coin from the Mint. The set became unavailable within a week and was officially sold out in February. These coins have the same frosted fields and polished design devices as other Reverse Proofs plus other design elements that are polished or frosted such as the folds of Liberty's dress and the sun on the obverse. Final sales were 99,675.
On August 6 the 2019-S Proof Silver Eagle was released at a price of $55.95 with no order or household limits and was also sold in that year's Limited Edition Silver Proof Set released on October 17 at $149.95. That set was also the first one in which coins that were previously struck in .900 silver (the dime, quarters and half dollar) were now made from .999 fine silver planchets thanks to legal provisions from 2015 that also authorized the special edge lettering for the collector versions of the 2016 Silver Eagles. Final sales were 192,811.
The last coin for 2019 was launched on November 14, which coincided with the Whitman Expo in Baltimore, Maryland, where the coin was also available. The coin, the 2019-S Enhanced Reverse Proof, was issued with a remarkably low mintage of 30,000 coins – which happens to be the same number as the original limit for the 1995-W Proof Silver Eagle, the king of the series, that sells for thousands of dollars in any condition.
The new coin was priced at $65.95 with a one coin per household order limit and sold out in less than 20 minutes, which resulted in many buyers being unable to place or complete their orders and which led to
many complaints from such buyers. The Mint's web site was under perhaps greater pressure than it had been for any prior release with 99,000 people online and another 4,700 trying to order via the telephone ordering system. Ordering problems were magnified by the use of bots, or automated scripts, designed to circumvent the Mint's ordering limit, and dealers also found legal ways to do that such as by offering to buy coins from Mint customers for a premium before they went on sale.
In addition, at the Baltimore show where 800 coins were sold, Mint Director David J. Ryder hand signed the certificates of authenticity that come with the coins, which were for the first time individually-numbered, plus 100 of the coins sold through regular channels were also hand –signed and numbered. Many of those coins sold for many thousands of dollars, well into five figures. The regular coin without a signed COA continues to sell for a very strong secondary market premium. This coin is now the lowest mintage issue of the series as it came in a little lower than the 1995-W whose final mintage is 30,125.
2019 Silver Eagle Mintages
Bullion: 14,863,000
Proof (S): 192,811
Enhanced Reverse Proof (S): 29,909
Proof (W): 375,180
Enhanced Reverse Proof (W): 99,675
Uncirculated (Burnished): 141,030
Coin Specifications
Mint Mark: none (bullion), S (proof, enhanced reverse proof), W (proof, uncirculated, enhanced reverse proof)
Designers: Adolph Weinman (obverse), John Mercanti (reverse)
Composition: 99.93% silver, 0.07% copper
Weight: 31.101 grams (1.000 ounces)
Diameter: 40.6 millimeters (1.58 inches)
Thickness: 2.98 millimeters (0.117 inches)
Edge: Reeded

< 2018 Silver Eagle | 2020 Silver Eagle >