The United States Mint's silver bullion coin series entered its sixth year with the 1991 Silver Eagle (Buy on eBay). The annual mintage increased for the third consecutive time to 7,191,066 coins. This number represented a temporary peak, which would not be exceeded until the pre-Y2K demand drove the mintage for the 1999 bullion coin to a higher level.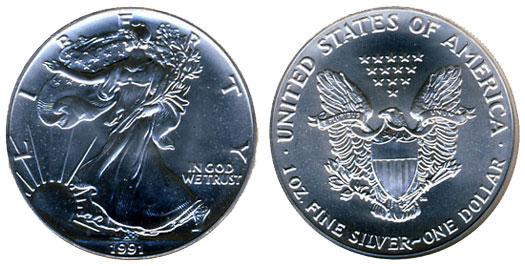 Proof Coin
The 1991 Proof Silver Eagle (Buy on eBay) mintage experienced a sharp decline, to a level just above 500,000. These proof coins were struck with a high quality cameo finish at the San Francisco Mint and sold to collectors for $23.00 per coin. This had been the offering price of the coin since 1987.
For collectors of certified Silver Eagles, perfect NGC PF 70 Ultra Cameo graded proof coins can be attained, but MS 70 coins are somewhat elusive. In PCGS holders, perfect coins are scarce for proof and do not exist for bullion coins.
During 1991, the average price of silver was $4.05. During the year, the price of silver dropped to a low of just $3.61 per ounce before rebounding.
1991 Silver Eagle Mintages
Bullion Mintage: 7,191,066
Proof Mintage: 511,924
Coin Specifications
Mint Mark: none (bullion), S (proof)
Designers: Adolph A. Weinman (obverse), John Mercanti (reverse)
Composition: 99.93% silver, 0.07% copper
Weight: 31.101 grams (1.000 ounces)
Diameter: 40.6 mm (1.598 inches)
Thickness: 2.98 mm (0.117 inches)
Edge: Reeded

< 1990 Silver Eagle | 1992 Silver Eagle >