The 1987 Silver Eagle (Buy on eBay) marked the second year of release for the series. It was also the first year that bullion coins were available for sale for the entire year. In the prior year, bullion coins were only sold for the final two months. Sales of the bullion coins were extremely high with over 11 million purchased. This amount represented the highest bullion coin mintage for the series for more than two decades until the record was finally broken in 2008.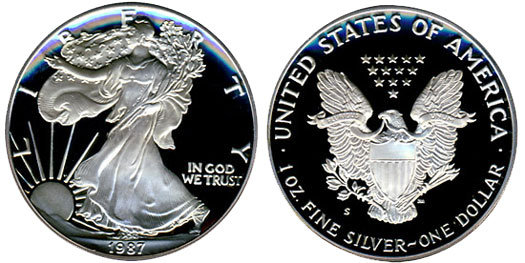 Proof Coin
The 1987 Proof Silver Eagle (Buy on eBay) coin mintage dipped from the inaugural year which is a common occurrence for modern collector series. The United States Mint offered these coins for sale during 1987 priced at $23.00 each. This reflected a $2 increase from the prior year. The packaging remained similar in theme to the prior year and the coins continued to bear the "S" mint mark on the reverse.
This year represents a conditional challenge for certified coin collectors. Only a small number of bullion coins have received the perfect MS70 grade form PCGS or NGC. Also, the collector versions graded PCGS PR70DCAM or NGC PF 70 Ultra Cameo have some of the lowest populations for a Proof Silver Eagle.
During 1987, the overall average price of silver was $7.01 per ounce.
1987 Silver Eagle Mintages
Bullion Mintage: 11,442,335
Proof Mintage: 904,732
Coin Specifications
Mint Mark: none (bullion), S (proof)
Designers: Adolph A. Weinman (obverse), John Mercanti (reverse)
Composition: 99.93% silver, 0.07% copper
Weight: 31.101 grams (1.000 ounces)
Diameter: 40.6 mm (1.598 inches)
Thickness: 2.98 mm (0.117 inches)
Edge: Reeded

< 1986 Silver Eagle | 1988 Silver Eagle >