The 2004 Silver Eagle (Buy on eBay) showed a slight mintage increase from the prior year but stayed within the 8 million range. As standard, this silver bullion version of the coin was sold to collectors and precious metals investors through the United States Mint's network of authorized bullion dealers.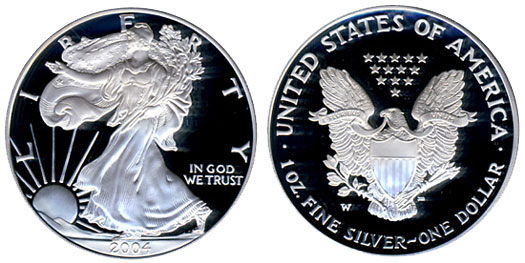 Proof Coin
The U.S. Mint also offered a collectible proof version of the coin, which featured a high quality cameo finish. The 2004 Proof Silver Eagle (Buy on eBay) was offered beginning on April 27, 2004 with a maximum authorized mintage of 850,000 coins, an increase of 100,000 from the prior year level. The coins were priced at $27.95, representing an increase of $3.95 per coin. At the time, this represented the third pricing increase for the proof Silver Eagles since first offered in 1986. The other pricing increases occurred in 1987 and 1998.
Certified coin collectors will find that perfect graded proof coins in both NGC PF 70 Ultra Cameo and PCGS PR70DCAM are much more attainable than earlier years of the series. The minting process had started to produce high quality coins with more consistency. Perfect graded bullion coins are also more readily available graded PCGS or NGC MS 70.
The overall average price of silver during 2004 was $6.67 per ounce. On two occasions during the year, the price enjoyed brief spikes above the $8.00 level.
2004 Silver Eagle Mintage
Bullion Mintage: 8,882,754
Proof Mintage: 801,602
Coin Specifications
Mint Mark: none (bullion), W (proof)
Designers: Adolph A. Weinman (obverse), John Mercanti (reverse)
Composition: 99.93% silver, 0.07% copper
Weight: 31.101 grams (1.000 ounces)
Diameter: 40.6 mm (1.598 inches)
Thickness: 2.98 mm (0.117 inches)
Edge: Reeded

< 2003 Silver Eagle | 2005 Silver Eagle >