The 1989 Silver Eagle (Buy on eBay) showed a slight up tick for mintage of bullion coins during a down year for the price of silver. The United States Mint sold a total of 5,203,327 silver bullion coins dated 1989. This was just above the mintage level for 1988. Since the start of the program, the U.S. Mint had now produced and sold more than 25 million ounces of silver through the program.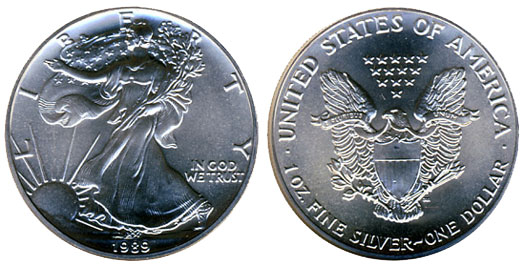 Proof Coin
The 1989 Proof Silver Eagle (Buy on eBay) showed a relatively large gain from the low level of the prior year. This collectible proof version of the Silver Eagle was produced at the San Francisco Mint and sold to collectors for an original offering priced of $23.00 per coin. The final reported mintage was 617,964.
Perfect graded NGC coins in MS 70 and PF 70 Ultra Cameo are more commonly found than for prior years. Perfect examples graded by PCGS remain scarce.
During 1989, the overall average price of silver was $5.51.
1989 Silver Eagle Mintages
Bullion Mintage: 5,203,327
Proof Mintage: 617,964
Coin Specifications
Mint Mark: none (bullion), S (proof)
Designers: Adolph A. Weinman (obverse), John Mercanti (reverse)
Composition: 99.93% silver, 0.07% copper
Weight: 31.101 grams (1.000 ounces)
Diameter: 40.6 mm (1.598 inches)
Thickness: 2.98 mm (0.117 inches)
Edge: Reeded

< 1988 Silver Eagle | 1990 Silver Eagle >