The 1998 Silver Eagle (Buy on eBay) saw its mintage creep higher for bullion coins, as the price of silver spiked and then dropped during the year. In the following year, bullion coin sales would jump to even higher levels due to an increased interest in precious metals leading up to Y2K.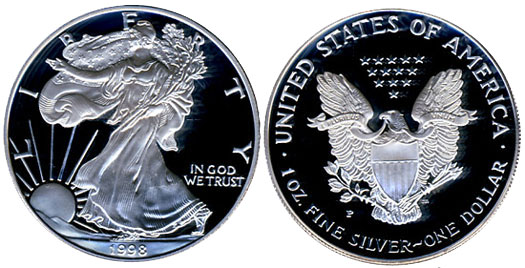 Proof Coin
In addition to the bullion version, the United States Mint produced the 1998 Proof Silver Eagle (Buy on eBay) for collectors. These coins feature a high quality proof finish with cameo contrast. The coins were produced at the Philadelphia Mint and had a maximum authorized mintage of 450,000, which completely sold out. The coins were priced at $24.00 each, which was an increase of $1.00 from the prior year. This was the first price increase for the proof version of the Silver Eagle since 1987.
For certified coin collectors, this year is relatively easier to attain in perfect NGC and PCGS proof grades than prior years. The bullion version is scarce in PCGS MS70, but can be found in NGC MS 70.
After starting the year around $5.80 per ounce, the price of silver spiked to $7.81 per ounce in early February. The gains quickly dissipated and by mid year, the price had fallen to around $5.00 where it more or less remained. Throughout the course of the entire year, the weighted average price of silver was $5.55 per ounce.
1998 Silver Eagle Mintage
Bullion Mintage: 4,847,549
Proof Mintage: 450,000
Coin Specifications
Mint Mark: none (bullion), P (proof)
Designers: Adolph A. Weinman (obverse), John Mercanti (reverse)
Composition: 99.93% silver, 0.07% copper
Weight: 31.101 grams (1.000 ounces)
Diameter: 40.6 mm (1.598 inches)
Thickness: 2.98 mm (0.117 inches)
Edge: Reeded

< 1997 Silver Eagle | 1999 Silver Eagle >