The 2007 Silver Eagle (Buy on eBay) showed a slight mintage decline from the prior year as the price of silver fell into a new range. With a final mintage of 9,028,036, this year would be the last time the mintage was below the 10 million mark. In the following years, economic uncertainties would drive demand for silver bullion coins to substantially higher levels.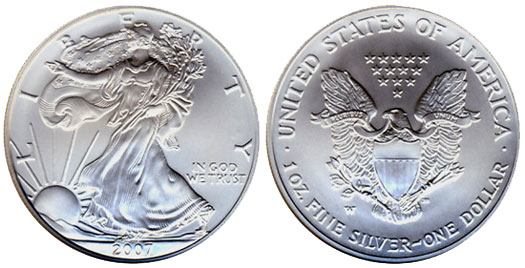 Proof Coin
The United States Mint separately released two different collectible versions of the American Silver Eagle. The 2007 Proof Silver Eagle (Buy on eBay) was first available for sale on March 27, 2007. The coins were priced at $29.95, reflecting an increase of $2 compared to the prior year, and did not carry a maximum authorized mintage.
Uncirculated Coin
For collectors of certified coins, perfect grades become relatively easier to acquire across the board. Coins are attainable in NGC and PCGS MS70 for both bullion and collectible uncirculated coins. Proof coins graded NGC PF 70 Ultra Cameo and PCGS PR70DCAM are also readily available.
The overall average price of silver during 2007 was $13.28 per ounce.
On June 13, 2007, the Mint released the 2007-W Uncirculated Silver Eagle (Buy on eBay). The collectible uncirculated version of the Silver Eagle had been introduced in the prior year, first as part of the 20th Anniversary Silver Eagle Set, and later as a separate option. These coins were struck on specially burnished blanks and carried the "W" mint mark. The individual coins were priced at $21.95 each, without a maximum mintage level established. The coins were also included in the 2007 Annual Uncirculated Dollar Coin Set, which included satin finish versions of the 2007 Sacagawea Dollar and four 2007-dated Presidential Dollars.
2007 Silver Eagle Mintages
Bullion Mintage: 9,028,036
Proof Mintage: 821,759
Uncirculated (Burnished) Mintage: 621,333*
*includes coins from the Annual Uncirculated Dollar Set
Coin Specifications
Mint Mark: none (bullion), W (proof & uncirculated)
Designers: Adolph A. Weinman (obverse), John Mercanti (reverse)
Composition: 99.93% silver, 0.07% copper
Weight: 31.101 grams (1.000 ounces)
Diameter: 40.6 mm (1.598 inches)
Thickness: 2.98 mm (0.117 inches)
Edge: Reeded

< 20th Anniversary Set | 2008 Silver Eagle >