Going into 2023, experts on silver expected the metal to perform well due to ongoing inflation in the American economy and constrained supplies, especially for industrial use, with officials from PAMP saying that in January, the metal would reach $30 or more this year.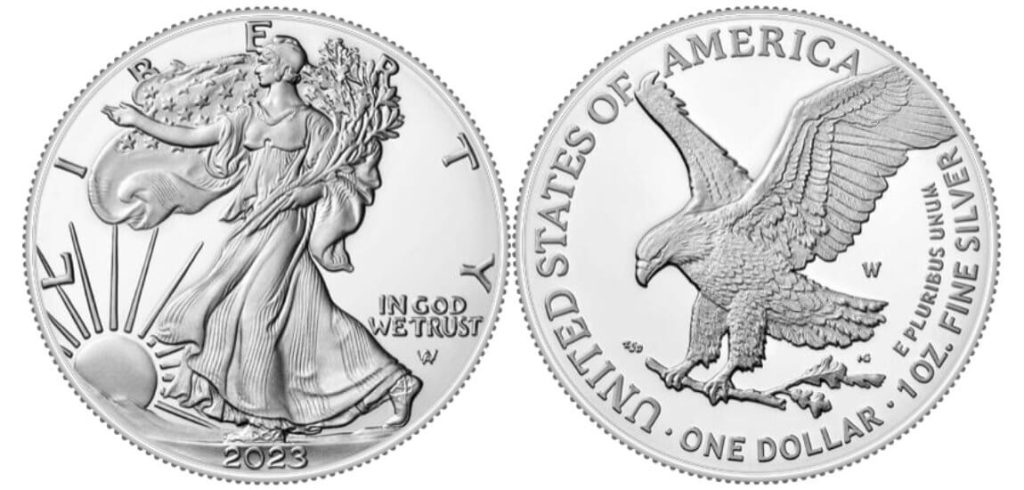 Silver hit a high on May 4 at $26.25 and a low for the year so far on March 8 at $20.34 per ounce. As of the time of writing (July 2023), silver was hovering around $23-$25.
Sales of bullion examples of the 2023 American Silver Eagle (Buy on eBay) began as they almost always do, very strong in January—the month the coins are first available. Sales began for these coins on January 10, when sales were 3,499,000, compared to 5 million opening sales the prior year.
Sales in January reached almost 4,000,000 in total, then dropped to 900,000 in each of the next three months and about 1.5 million in May and June.
Proof Coin
On May 2, the United States Mint began offering the 2023-W Proof American Silver Eagle (Buy on eBay) for sale. It was sold individually for $80.00 each with no product, mintage, or household limit. It was also sold for $82.00 in the 2023 Congratulations Set, with a product limit of 40,000 but no mintage or household limit.
Through March 5, sales reached a total of 420,199, including both single coins and the Congratulations Set plus coins sold to dealers through the Bulk Sales Program, which was 38% less than opening sales the prior year.
Burnished Uncirculated Coin
The 2023-W Burnished Uncirculated American Silver Eagle (Buy on eBay) was offered for sale starting on May 25 for $76.00 with no mintage, product, or household limit. Opening sales during the first four days for this coin reached 117,135 compared to 143,738 for the 2022-W coin.
The Mint will also offer the 2023-S Proof American Silver Eagle starting on October 10, and in the fall, the 2023 Limited Edition Silver Proof Set goes on sale. It is not known whether that set will include a 2023-W or 2023-S Proof coin or both.
2023 American Silver Eagle Mintages
Bullion: 10,138,000 
Proof (W): 544,422 
Proof (S): TBD 
Uncirculated (Burnished): 142,462  
Mintage numbers as of July 11, 2023
Coin Specifications
Mint Mark: none (bullion), "S" (proof), "W" (proof, uncirculated) 
Designers: Adolph Weinman (obverse), Emily Damstra (reverse type 2) 
Composition: 99.93% silver, 0.07% copper 
Weight: 31.101 grams (1.000 ounces) 
Diameter: 40.6 millimeters (1.58 inches) 
Thickness: 2.98 millimeters (0.117 inches) 
Edge: reeded