Sales of the 2018 bullion American Silver Eagle continued the downward trend that began in 2017 with sales during the first two months of the year down 34% compared to the same period in 2017. That trend continued for most of the year apart from a brief spike in August and September.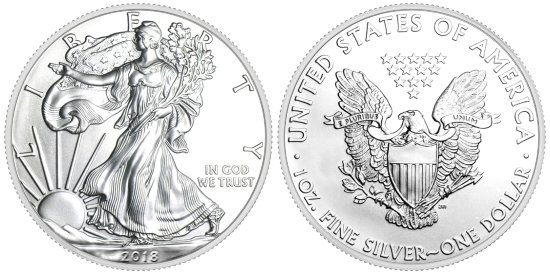 For the year total sales were 15,700,000, which represented an 11-year low for this iconic coin. That was driven by a trend away from precious metals in 2018 towards other asset classes. In addition, in 2018 the Silver Eagle achieved the unfortunate distinction of being named the coin that dealers most frequently encounter in counterfeit form, according to a survey the Industry Council for Tangible Assets (ICTA).
Silver spent the year between $14 and $18 per ounce with the average price for the year being $15.71 and the highest reached on January 25 when it was $17.52. In September the Mint announced that its stock of coins was temporary depleted, and the West Point Mint, which was the only facility that produced the coins that year, increased it production.

The 2018-W Proof Silver Eagle was launched on January 4 and priced at $54.95, $2 higher than in 2017. The coin was sold in several different products, including individually, in the 2018 Congratulations Set and in bulk packs for dealers. Sales of this Proof issue were similar to those of 2017, which were down by 30% compared to 2016. Some analysts attributed the decline to a weakening market for the Proof Silver Eagles, but it may also have been related to the fact that for the second year collectors who wanted complete sets needed to purchase four different Silver Eagles per year, including two Proof issues, and even more when special sets were released. Final sales were 411,397 coins.
On August 14 sales of the 2018-S Proof Silver Eagle began at a price of $55.5 with no mintage limit. First day sales were 52,494 for the individually offered coin, and the coin was also included in the 2018 Limited Edition Silver Proof Set that went on sale on October 18 and was priced at $144.95. Final sales for this coin including both products were 208,258.
The final coin for the year, the 2018 Burnished Uncirculated Silver Eagle. Went on sale May 24 and was priced at $46.95, $2 more than in 2017. Sales of this coin continued the downward trend for this product and other Silver Eagles, and the coin was still available for sale a year after its release. When the coins were finally sold out, total sales were 138,947 coins, which represented the lowest mintage for this type of Silver Eagle to date.
2018 Silver Eagle Mintages
Bullion: 15,700,000
Proof (S): 208,258
Proof (W): 411,397
Uncirculated (Burnished): 138,947
Coin Specifications
Mint Mark: none (bullion), S (proof), W (Proof, uncirculated)
Designers: Adolph Weinman (obverse), John Mercanti (reverse)
Composition: 99.93% silver, 0.07% copper
Weight: 31.101 grams (1.000 ounces)
Diameter: 40.6 millimeters (1.58 inches)
Thickness: 2.98 millimeters (0.117 inches)
Edge: Reeded

< 2017 Silver Eagle | 2019 Silver Eagle >