For the first time in the American Silver Eagle series, a significant variety was released in 2008. This was known as the 2008-W Silver Eagle Reverse of 2007 Variety (Buy on eBay). The United States Mint had slightly altered the reverse design between 2007 and 2008, and they inadvertently struck some 2008 coins with the 2007 reverse type.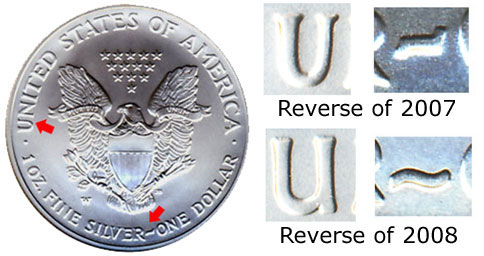 The variety occurs on the 2008-W Uncirculated Silver Eagle. This is the collectible uncirculated or "burnished" version of the coin that the U.S. Mint sold directly to collectors. The variety can be identified by examining two aspects of the reverse design. On the Reverse of 2007, the "U" in "UNITED STATES" will be bowl shaped and the dash between the words "SILVER" and "ONE" will be shaped like a tilde. On the reverse of 2008, the "U" will have a spur on the right side of the letter and the dash will be angled.
Extremely Scarce
The Reverse of 2007 Variety is the scarcer version of the coin and carries a big premium. Shortly after the discovery of the coin, the U.S. Mint estimated that approximately 47,000 of the variety may have been released. This estimate was based on the fact that West Point Mint employees found 15 dies with the reverse type of 2007.
The mintage estimate was later revised to 46,318 within a response to a Freedom of Information Act request.
Both PCGS and NGC attribute this variety as "Reverse of 2007". Top graded examples of this important variety have been in strong demand since the initial discovery.

< 2008 Silver Eagle | 2009 Silver Eagle >