The uptick in mintage in the prior year proved fleeting. The 1994 Silver Eagle (Buy on eBay) experienced a decline that brought the mintage to the lowest level for the series thus far. The total production of just 4,227,319 coins remains the second lowest bullion mintage for the overall series.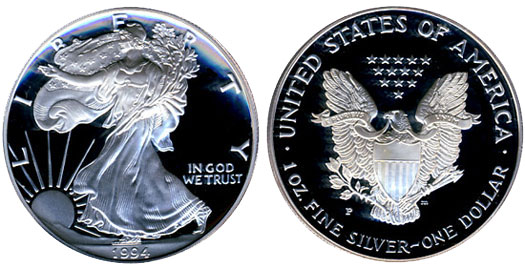 Proof Coin
The mintage for the 1994 Proof Silver Eagle (Buy on eBay) also experienced a decline to only 372,168. Besides the specially issued 1995-W Proof, this represents the lowest mintage of the series for a proof coin. Produced at the Philadelphia Mint with the "P" mint mark, these coins were sold directly to collectors at an original price of $23.00 each.
Both the bullion version of the coin and the proof coin carry premiums due to their lower mintages.
For certified coin collectors, this is another difficult year to find perfect specimens. Proof versions can be found with some difficulty. Bullion versions can be found in NGC MS 70, but not PCGS MS70.
The overall average price of silver for 1994 was $5.28 per ounce. During the year, the price ranged from a high of $5.75 in March to a low of $4.78 in December.
1994 Silver Eagle Mintages
Bullion Mintage: 4,227,319
Proof Mintage: 372,168
Coin Specifications
Mint Mark: none (bullion), P (proof)
Designers: Adolph A. Weinman (obverse), John Mercanti (reverse)
Composition: 99.93% silver, 0.07% copper
Weight: 31.101 grams (1.000 ounces)
Diameter: 40.6 mm (1.598 inches)
Thickness: 2.98 mm (0.117 inches)
Edge: Reeded

< 1993 Silver Eagle | 1995 Silver Eagle >