The 1993 Silver Eagle (Buy on eBay) showed an increased mintage for the bullion version of the coin as the price of silver bounced off its lows. The US Mint sold nearly seven million 1993-dated coins to silver bullion investors and collectors. The rise in demand would prove to be temporary, however, with mintages falling for the next several years.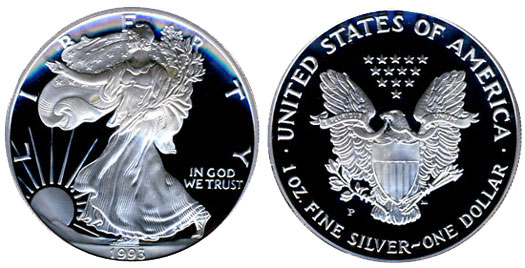 Proof Coin
The United States Mint's collectible 1993 Proof Silver Eagle (Buy on eBay) experienced a decline in mintage to just above 400,000 coins. For all years of the series to date, this represents the second lowest mintage for a regular issue proof coin. Accordingly, the issue carries a price premium above other proof issues. Also notable, this is the first year that the proof coins were minted in Philadelphia and carry the "P" mint mark.
Across the board, collectors of certified American Silver Eagle coins will have a difficult time finding perfect graded coins. This is the scarcest regular proof coin to find in NGC PF 70 Ultra Cameo or PCGS PR70DCAM.
The average price of silver for the year 1993 showed its first increase in many years, coming in at $4.31 per ounce. During the year, silver traded as high as $4.57 per ounce.
1993 Silver Eagle Mintages
Bullion Mintage: 6,763,762
Proof Mintage: 405,913
Coin Specifications
Mint Mark: none (bullion), P (proof)
Designers: Adolph A. Weinman (obverse), John Mercanti (reverse)
Composition: 99.93% silver, 0.07% copper
Weight: 31.101 grams (1.000 ounces)
Diameter: 40.6 mm (1.598 inches)
Thickness: 2.98 mm (0.117 inches)
Edge: Reeded

< 1992 Silver Eagle | 1994 Silver Eagle >