In 2022 the United States Mint experienced its second year selling American Silver Eagles with the new reverse design, and the new design plus high demand for physical silver in a period of economic uncertainty continued to help support demand for those coins.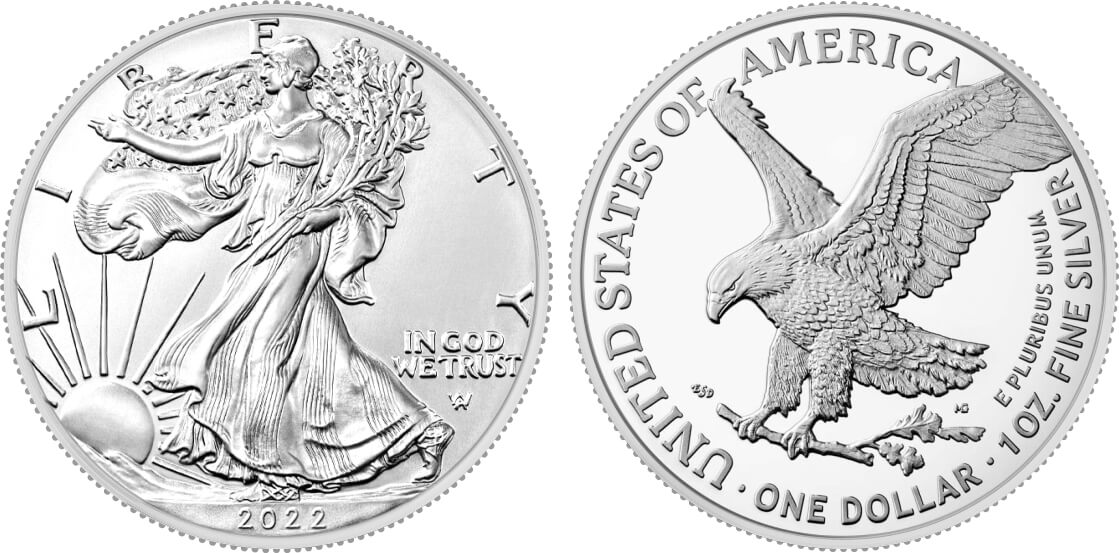 Due to the resignation of David J. Ryder as Director of the U.S. Mint in the fall of 2021, the Mint was now headed by Acting Director Ventris C. Gibson – a Navy veteran with decades of experience as a government executive focusing on human resources.
Spot silver began the year at $22.90, then rose to $24 in late February and $25 in March. But towards the end of April, it began going down again – a trend that continued in May when it got down to $21.
Sales of 2022 American Silver Eagle Bullion Coins (Buy on eBay) were again very good due to high demand as in 2021. Sales began on a strong note as usual with sales during the first week of 3 million and total January sales of 5,001,000. By the end of May they reached 9,281,500.
Limited Edition Signature Labels
One of the factors contributing to the strong demand for these coins is the ongoing expansion of limited-edition NGC signature labels on graded examples. Those for 2022 include labels signed by Don Everhart, John Mercanti, Rick Harrison, Elizabeth Jones, Michael "Miles" Standish, Edmund Moy, John Boehner, David J. Ryder, David Motl, Michael Gaudioso, Anna Cabral, Joel Iskowitz, Rhett Jeppson, Thomas Uram, Ken Bressett, Michael Castle, Charlie Duke, and Rick Harrison which feature various cores with flags, Liberty and others. Many of those have populations in the low hundreds and even below 100.
In April the Mint announced these maximum authorized mintage limits for the collector versions of the 2022 American Silver Eagle: 746,760 for the 2022-W Proof American Silver Eagle, including sales of individual coins and dealer bulk sales plus 30,000 for the 2022 Congratulations set; 321,840 for the 2022-S Proof American Eagle, including 50,000 reserved for the 2022 Limited Edition Silver Proof Set; and 219,640 for the 2022-W Uncirculated American Silver Eagle.
Proof Coin
The 2022-W Proof American Silver Eagle (Buy on eBay) went on sale on April 14 and was priced at $73 with no product, mintage of order limit. A week before the launch, the Mint announced that the coin was sold out due to product enrollments, but thanks to cancellations and order reconciliation, the coin was available for sale on April 14 individually, in the 2022 Congratulations Set and on 40-coin dealer packs. First day sales were 461,169 coins. By April 19, the product became currently unavailable. Sales through June 2 were 663,762.
On June 1, the 2022-W Burnished Uncirculated Silver Eagle went on sale and was priced at $67, but thanks to an expansion of product enrollments, the Mint announced on April 12 that 147,897 coins had been sold that way, which led to the closing of enrollments. The product limit for this item is 160,000 with an order limit of 3 coins and an overall mintage limit of 219,640.
The 2022-S Proof American Silver Eagle (Buy on eBay) went on sale on August 14.
2022 Silver Eagle Mintages
Bullion Mintage: 15,963,500
Uncirculated (Burnished): 199,505
Proof (W): 663,762
Proof (S): 316,665
Coin Specifications
Mint Mark: none (bullion), "S" (Proof), "W" (Proof, Uncirculated)
Designers: Adolph Weinman (obverse), Emily Damstra (reverse type 2)
Composition: 99.93% silver, 0.07% copper
Weight: 31.101 grams (1.000 ounces)
Diameter: 40.6 millimeters (1.58 inches)
Thickness: 2.98 millimeters (0.117 inches)
Edge: reeded

< 2021 Silver Eagle | 2023 Silver Eagle >