2021 was a banner year for the Silver Eagle Program mainly because a new reverse design was implemented. It was designed by U.S.-Canadian artist Emily Damstra, engraved by U.S. Mint Medallic Artist Michael Gaudioso and features an image of an eagle in flight clutching oak branches in its talons as it prepares to land where it is building a nest. The new design was introduced mid-year, and bullion and collector coins plus a special set with both types were produced, resulting in the issuance of far more different coins that year than in any prior year. Plus, for the first time during the year it was happening, the United States Mint provided data on which branch mints struck the two reverse types of bullion coins in 2021.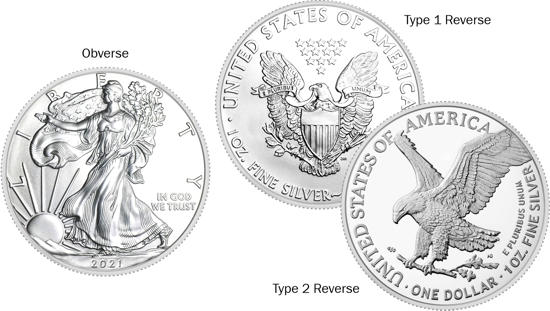 A Long Time In The Making
Thanks to a law from 1890 the U.S. Mint can change the design of a coin once it has been used for 25 years without receiving congressional approval. A new reverse design for the Silver Eagle had been recommended starting in 2014 by the Citizens Coinage Advisory Committee (CCAC) which that year suggested using a flying eagle design that was reminiscent of Christian Gobrecht's Silver Dollar. At the time the Mint opted to retain the 1986 design by John Mercanti and instead use that design on a $5 gold commemorative, not wanting to do anything that might upset sales of the bullion coins that were strong at the time.
But after David J. Ryder became Mint Director in 2018, he further pursued the issue and announced in March 2019 that an effort was underway to implement a new design, which was approved by Secretary of the Treasury Steven Mnuchin later that year. That led the Mint's team of artists to create of a portfolio of 39 different designs that were reviewed in 2020 by the CCAC and the other design committee, the Commission on Fine Art (CFA), which were split in their recommendations.
In the end, Secretary Mnuchin selected the design the CFA had recommended for the Silver Eagle and the design the CCAC recommended for the Silver Eagle for the Gold Eagle instead, which was the work of Jennie Norris. The obverse of the Silver Eagle was also "refreshed," as the Mint termed it, to resemble the original artistic intent of Adolph Weinman more closely. The new designs were revealed on October 10, 2020. The new design also included anti-counterfeiting measures that are both covert and overt, including a notch on the obverse side. Silver Eagles are the most counterfeited silver coin.
High Demand, Pandemic Complications
A first strike ceremony was held on April 10 at West Point for the new reverse design coins, which began appearing in bullion versions in the market after that. 13,968.500 were made in West Point plus another million at the San Francisco Mint.
On January 11 bullion 2021 Silver Eagles with the original reverse design were launched. Due to high demand and ongoing issues with the pandemic that impacted production, the last of the original or type 1 reverse bullion coins were made at the Philadelphia (495,500 coins) and San Francisco Mint (1,000,000 coins) in addition to the West Point Mint, which struck 11,811,000.
Silver started the year at $26.38 and finished at $23.35, averaging $25.14. Total bullion sales for both types for the year were 28,275,000, which was down about 10% from 2020, but production was impacted by the design change and the pandemic. Also, no bullion coins were sold in May because of the transition to the new reverse or in December because by then production shifted to 2022 coins.
Type 1
The 2021-W Type 1, or Reverse of 1986, Proof Silver Eagles – the last coins of their type – went on sale on February 11 for $73 with first day sales of 284,272. Another 35,717 of the coins were sold in the 2021 Congratulations Set and another 48,374 in the 2021 Limited Edition Silver Proof Set that went on sale on October 1 for $235 and included two Proof Silver Eagles – this one and a 2021-S Type 2 coin. The coin was sold with a product limit of 327,440 (that did not include those in the limited set) and no order limit. The individual coins became unavailable on the Mint's web site within three minutes on February 11 because most of the coins had already been allocated before sales began that day due to a combination of advance sales to dealers and product enrollments from retail buyers which were much higher than usual. Final sales were 375,321. This coin saw its secondary market value increase as soon as the coin was not available from the Mint.
Type 2
On July 20 the 2021-W Type 2, or Reverse of 2021, Proof Silver Eagles went on sale with a product limit of 300,000 (later raised) and an order limit of three coins and was priced at $73. That initial offering of the coins became unavailable on July 20 within 20 minutes of going on sale. The coins were also sold to dealers in bulk sales, which increased the final mintage to 384,279.
On August 12, the 2021-S Proof Silver Eagle with the new reverse was launched with a 200,000-product limit and order limit of three coins and priced at $73. First day sales were 169,564, which was almost 85% of the product limit for individual coins. It was also sold in October in the 2021 Limited Edition Silver Proof Set (48,374 sold), which included the W and S Proof Type 2 coins, and in dealer packs. Sales briefly reopened on December 28 after some coins became available from order reconciliations. Final sales across product options were 272,181.
On September 9 the 2021-W Burnished Uncirculated Coin went on sales with a 175,000-product limit, a three-coin order limit and a price of $67. The coin did not sell out instantly like the other 2021 collector Silver Eagles but took almost a week to sell out with final sales of 185,791 coins including 172,831 individual coins and 12,960 sold on dealer packs.
Originally scheduled to go on sale on August 24, the 2021-W Silver Eagle Reverse Proof Two-Coin Designer Edition Set went on sale on September 13 with a product limit of 125,000 and an order limit of one set. The set included two Reverse Proof Silver Eagles – a Type 1 2021-W and a Type 2 2021-S. The set became unavailable within three hours of going on sale, and first day sales were 124,251. Final sales for this product were 123,923.
2021 Silver Eagle Mintages
Bullion Type 1 struck at Philadelphia: 495,500
Bullion Type 1 struck at West Point: 1,811,000 (includes 200,000 Last Struck coins)
Bullion Type 1 struck at San Francisco: 1,000,000
Bullion Type 2 struck at San Francisco: 1,000,000
Bullion Type 2 struck at West Point: 13,968,500 (includes 200,000 First Struck coins)
Proof (S): 272,181
Proof (W) Type 1 reverse: 375,321
Proof (W) Type 2 reverse: 384,279
Reverse Proof (W): 123,923
Uncirculated (Burnished): 185,791
Coin Specifications
Mint Mark: none (bullion), S (proof), W (Type 1 proof, Type 2 proof, reverse proof, uncirculated)
Designers: Adolph Weinman (obverse), John Mercanti (reverse type 1), Emily Damstra (reverse type 2)
Composition: 99.93% silver, 0.07% copper
Weight: 31.101 grams (1.000 ounces)
Diameter: 40.6 millimeters (1.58 inches)
Thickness: 2.98 millimeters (0.117 inches)
Edge: Reeded

< 2020 Silver Eagle | 2022 Silver Eagle >