The United States Mint released the 25th Anniversary American Silver Eagle Set (Buy on eBay) on October 27, 2011 to celebrate the important milestone for the program. The product generated a great deal of excitement with collectors due to the limited production of 100,000 units and the inclusion of two coins that were exclusive to the set.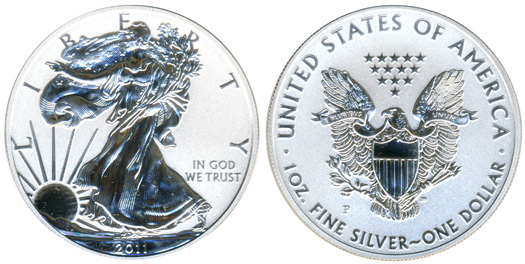 At the Chicago ANA World's Fair of Money held from August 16-20, 2011, the Deputy Director of the Mint announced the intention to create a special set to commemorate the 25th anniversary of the American Eagle Coin Program. The set would include five Silver Eagles with different finishes and/or mint marks.
Three of the coins had previously been issued by the United States Mint through other channels. These included the proof version struck at the West Point Mint and carrying the "W" mint mark, the uncirculated version also struck at West Point and carrying the "W" mint mark, and the bullion version of the coin without a mint mark. Representatives from the U.S. Mint later confirmed that the bullion coins were all struck at the San Francisco Mint, although this is not indicated on the certificate of authenticity.
The remaining two coins were unique to the sets and not offered individually or within other products, giving them an extremely low mintage. The 2011-P Reverse Proof Silver Eagle was struck at the Philadelphia Mint. This coin featured mirrored raised design elements and frosted fields, for the opposite effect of the traditional proof. The 2011-S Uncirculated Silver Eagle was struck at the San Francisco Mint and carried the "S" mint mark. Until this point, all collectible uncirculated Silver Eagles had been struck at West Point and carried the "W" mint mark.
An ordering limit of five sets per household was established by the United States Mint, which was likely too high. The sets went on sale October 27, 2011 at 12:00 Noon ET priced at $300 per set. A deluge of internet and phone orders resulted in a complete sell out in approximately 4.5 hours. Most customers ordered the maximum five sets and as soon as they began so ship in early November, a robust secondary market developed with sales prices more than double the original issue price.
Submission Guidance
Third party grading companies PCGS and NGC provided specific guidance for collectors submitting the sets. In order to have all five coins attributed to the anniversary sets, collectors had to submit the coins in the original sealed U.S. Mint shipping boxes. This results in a premium for unopened shipping boxes. Top graded sets have sold for as much as twice the price of ungraded sets in the original government packaging.
25th Anniversary Set Mintage
25th Anniversary Set Specifications
Mint Mark: W (proof & uncirculated coins), P (reverse proof coin), S (uncirculated coin), none (bullion coin)
Designers: Adolph A. Weinman (obverse), John Mercanti (reverse)
Composition: 99.93% silver, 0.07% copper
Weight: 31.101 grams (1.000 ounces)
Diameter: 40.6 mm (1.598 inches)
Thickness: 2.98 mm (0.117 inches)
Edge: Reeded

< 2016 Silver Eagle | 2017 Silver Eagle >