The 2000 Silver Eagle (Buy on eBay) saw mintages increase once again after Y2K rekindled interest in precious metals. The bullion coin mintage exceeded 9 million. This exceeded the levels of the prior year and came close to the previous all time high mintage reached in 1987.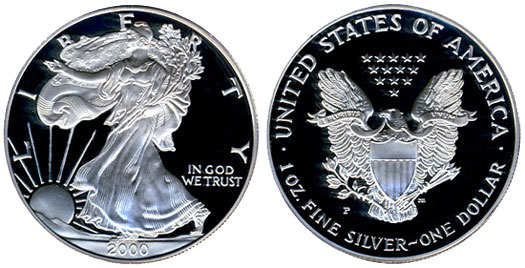 Proof Coin
The 2000 Proof Silver Eagle (Buy on eBay) was offered by the United States Mint starting on May 15, 2000. It was promoted as "the perfect collector's item to commemorate the year 2000." The coins were limited to a maximum authorized mintage of 600,000 and sold for $24 each. Once again, a sell out was achieved for the full maximum mintage.
Millennium Coinage and Currency Set
Separately, the U.S. Mint offered the Millennium Coinage and Currency Set (Buy on eBay). This set included the newly introduced Sacagawea Dollar, American Silver Eagle, and $1 bill with a special serial number. The set was limited to 75,000 units and sold out at the Mint after it was determined that the Sacagawea Dollar had a special "burnished finish". The Silver Eagle included in the set is designated "Millennium Set" by third party grading services.
Certified coin collectors will find perfect graded proof coins in abundance in NGC holders, although PCGS PR70DCAM can still be elusive. Perfect graded bullion coins are elusive in NGC holders and rare in PCGS holders.
The overall average price of silver during 2000 was $4.95 per ounce.
2000 Silver Eagle Mintage
Bullion Mintage: 9,239,132
Proof Mintage: 600,000
Coin Specifications
Mint Mark: none (bullion), P (proof)
Designers: Adolph A. Weinman (obverse), John Mercanti (reverse)
Composition: 99.93% silver, 0.07% copper
Weight: 31.101 grams (1.000 ounces)
Diameter: 40.6 mm (1.598 inches)
Thickness: 2.98 mm (0.117 inches)
Edge: Reeded

< 1999 Silver Eagle | 2001 Silver Eagle >