To celebrate the 20th year of American Silver Eagle coins, the United S Mint released the 20th Anniversary Silver Eagle Set (Buy on eBay). The sets included three Silver Eagle coins, each struck with a different finish.
The first coin in the set was struck with a newly introduced uncirculated finish. These coins were struck on specially burnished blanks and carried the "W" mint mark. These coins have been referred to as "collectible uncirculated" versions by the United States Mint, although some collectors refer to them as "burnished Silver Eagles."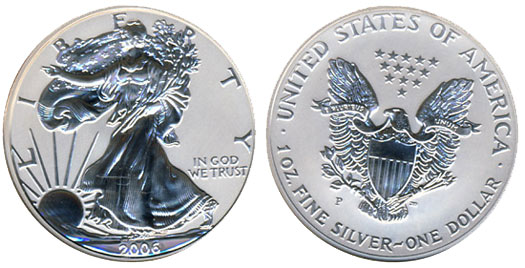 The second coin in the set was struck with a standard proof finish. As with other modern proofs, the coins featured a cameo contrast consisting of frosted raised elements and mirrored backgrounds. These coins were struck at the West Point Mint and carried the "W" mint mark.
The third coin included in the set featured a reverse proof finish. As the name implies, these coins had the opposite appearance of the standard proof finish. Raised design elements appear mirrored, while background fields are frosted. This represented the first time that the U.S. Mint struck coins in reverse proof. The coins were produced at the Philadelphia Mint and carry the "P" mint mark.
The 20th Anniversary Silver Eagle Sets went on sale August 30, 2006, priced at $100 per set. The sets were limited to a maximum authorized mintage of 250,000 sets, with a household ordering limit of ten. A sell out occurred after approximately two and a half months. Secondary market prices rose following the sell out and continued to climb during the ensuing months. Peak prices were reached around June 2007 at around $600 per set, before prices started to recede.
Separately, the U.S. Mint issued a 20th Anniversary Gold & Silver Eagle Set. These sets contained collectible uncirculated versions of the 2006-W Silver Eagle and 2006-W Gold Eagle. These sets were limited to 20,000 units and also sold out.
20th Anniversary Silver Eagle Set Mintage
Three Coin Set: 248,875
Two Coin Set (Gold and Silver): 19,145
20th Anniversary Silver Eagle Set Specifications
Mint Mark: W (proof & uncirculated coins), P (reverse proof coin)
Designers: Adolph A. Weinman (obverse), John Mercanti (reverse)
Composition: 99.93% silver, 0.07% copper
Weight: 31.101 grams (1.000 ounces)
Diameter: 40.6 mm (1.598 inches)
Thickness: 2.98 mm (0.117 inches)
Edge: Reeded

< 2006 Silver Eagle | 2007 Silver Eagles >