The United States Mint began accepting orders from authorized purchasers for the 2011 Silver Eagle (Buy on eBay) on January 3, 2011. Sales of the annual one ounce silver bullion coin started in impressive fashion, with more than 6 million coins purchased in January. Despite a continued elevated sales level throughout the year, the Mint did manage to release both the collector proof and uncirculated versions of the coin.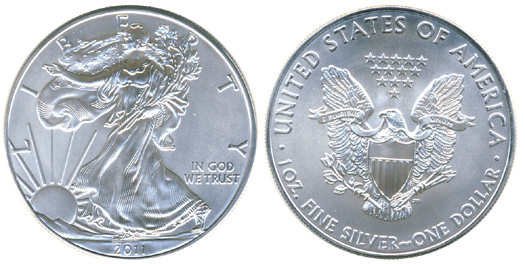 Amidst the continued high demand for Silver Eagles bullion coins, the US Mint implemented several changes to the program to increase output. This included process improvements at the West Point Mint, an increased number of precious metals blanks suppliers, and additional production at the San Francisco Mint.
The later step was an unusual development, as the bullion version of the Silver Eagle had been produced exclusively at the West Point Mint for more than a decade. The major third party grading companies almost immediately announced that they would begin specially encapsulating 2011 Silver Eagles struck at the San Francisco Mint. Since these coins did not contain a mint mark or any other identification, the only way to receive the special encapsulation was by submitting a sealed Monster Box of 500 coins with the proper identifying markings from the San Francisco Mint.
Eventually, the bullion coins achieved another all time annual sales record with a final mintage of 40,020,000.
The 2011 Proof Silver Eagle (Buy on eBay) was made available to collectors starting on July 15, 2011. Pricing for the offering was increased to $59.95 per coin, due to the higher market price of silver. An ordering limit of 100 coins per household was imposed for the first two weeks of sales. In early September, the price of the coin was increased to $68.45, but later decreased to $58.95, following a decline the market price of silver. A sell out for the individual version was achieved on November 22, 2011.
On September 15, 2011, the US Mint began sales of the 2011-W Uncirculated Silver Eagle (Buy on eBay), representing the return of the collector coin after a two year gap. As a result of legislation enacted near the end of the previous year, the US Mint gained greater flexibility in producing collector versions of the Silver Eagle, regardless of the level of bullion demand. The Uncirculated Silver Eagles are struck on specially burnished blanks and carry the "W" mint mark. The coins were initially priced at $60.45, but later reduced to $50.95. Availability continued into the following year, with the price further reduced to $45.95.
To celebrate an important milestone for the program, the US Mint also offered the 25th Anniversary Silver Eagle Set. The special set was announced in August and contained five different Silver Eagles, including two versions which were not available through other products. Collector demand for the sets was intense, leading to a sell out of the 100,000 maximum production within hours of release.

2011 Silver Eagle Mintages
Bullion Mintage: 40,020,000
Proof Mintage: 947,355
Uncirculated (Burnished) Mintage: 409,766
Coin Specifications
Mint Mark: none (bullion), W (proof, uncirculated)
Designers: Adolph A. Weinman (obverse), John Mercanti (reverse)
Composition: 99.93% silver, 0.07% copper
Weight: 31.101 grams (1.000 ounces)
Diameter: 40.6 mm (1.598 inches)
Thickness: 2.98 mm (0.117 inches)
Edge: Reeded