The 1997 Silver Eagle (Buy on eBay) has the third lowest bullion coin mintage for the series, however it only carries a slight premium. In total, the United States Mint produced 4,295,004 of the silver bullion coins, representing a higher total than only 1994 and 1996.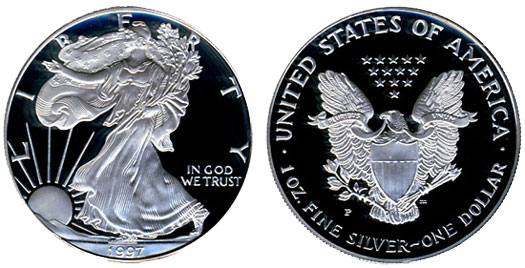 Proof Coin
The 1997 Proof Silver Eagle (Buy on eBay) has the third lowest mintage for a regular proof issue of the series and accordingly carries a premium compared to more common dates. The coins were produced for collectors with a maximum authorized mintage of 500,000 coins and priced at $23.00 each.
Impressions of Liberty Set
This year, the U.S. Mint also offered the Impressions of Liberty Set (Buy on eBay), which contained one ounce proof Gold, Silver, and Platinum Eagles. The three coin set was released to coincide with the launch of the new American Platinum Eagle. The product was limited to 5,000 sets priced at $1,499.00 and achieved a full sell out.
For certified coin collectors, the proof coin can be encountered in perfect grades from PCGS and NGC with more frequency. The bullion version can be located in NGC MS 70, but PCGS MS70 is scarce.
The average price of silver during 1997 was $4.91 per ounce. During the year silver remained within a relatively narrow range before breaking above $6.00 per ounce in December.
1997 Silver Eagle Mintages
Bullion Mintage: 4,295,004
Proof Mintage: 440,315
Coin Specifications
Mint Mark: none (bullion), P (proof)
Designers: Adolph A. Weinman (obverse), John Mercanti (reverse)
Composition: 99.93% silver, 0.07% copper
Weight: 31.101 grams (1.000 ounces)
Diameter: 40.6 mm (1.598 inches)
Thickness: 2.98 mm (0.117 inches)
Edge: Reeded

< 1996 Silver Eagle | 1998 Silver Eagle >