After a one year lull, the heavy demand for the American Silver Eagle bullion coins resumed. The United States Mint began accepting orders for the 2013 Silver Eagle (Buy on eBay) bullion coins on January 7, 2013. Orders received from authorized purchasers for the opening day reached an astounding 3,937,000 coins, representing the highest one-day sales total in the history of the program.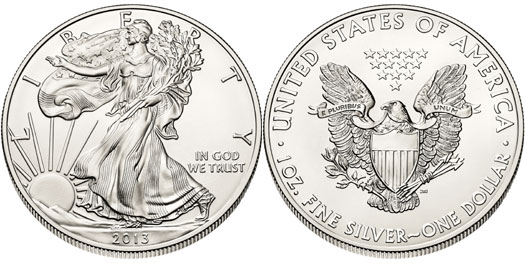 The intense demand would continue, with sales reaching more than 6 million coins after the first ten days of availability. On January 17, the U.S. Mint informed authorized purchasers that the 2013-dated coins were temporarily sold out and orders would be suspended until a sufficient inventory of coins could be produced. Sales were eventually resumed on January 28 under the allocation program, which rationed available supplies of the coins amongst authorized purchasers. Despite the continued rationing of supplies throughout the entire year, bullion sales reached a new annual sales record at 42,675,000.
Proof Coin
On January 24, 2013, the US Mint began accepting orders for the 2013 Proof Silver Eagle (Buy on eBay), one of several numismatic offerings for the year. This standard individual proof version of the coin carried the "W" mint mark and was offered without a stated maximum mintage and without household ordering limits. The initial price of the coin was $62.95, which was subsequently reduced to $57.95. The individual offering sold out on November 12, 2013, although the coin would remain available within other numismatic products.
The proof coin was also available within the 2013 Congratulations Set and the 2013 Limited Edition Silver Proof Set. The first product included the coin within special celebration themed packaging for gift giving occasions. The second product was limited to 50,000 units and contained the 2013-W Proof Silver Eagle along with the 90% silver proof versions of the 2013-dated dime, quarters, and half dollar.
Uncirculated Coin
The 2013-W Uncirculated Silver Eagle (Buy on eBay) was available for sale starting on May 28, 2013. These coins were struck on specially burnished blanks and carried the "W" mint mark. Priced at $48.95 each, there was no stated maximum mintage indicated. Pricing for the offering was reduced to $43.95 after a drop in the market price of silver. This coin was also included within the 2013 Annual Uncirculated Dollar Coin Set, along with the four 2013 Presidential Dollars and the 2013 Native American Dollar. The individual option sold out prior to the end of the year, with the set selling out the following year.
The U.S. Mint continued their tradition of offering special sets for the series with the 2013 West Point Silver Eagle Set issued to celebrate the 75th anniversary of the edifice that houses the United States Mint facility at West Point. The set featured coins with a reverse proof and enhanced uncirculated finish. During a four week ordering window, the US Mint received orders for 235,689 of the special sets.
2013 Silver Eagle Mintages
Bullion Mintage: 42,675,000
Proof Mintage: 934,818
Uncirculated (Burnished) Mintage: 221,981
Coin Specifications
Mint Mark: none (bullion), W (proof, uncirculated, enhanced uncirculated)
Designers: Adolph A. Weinman (obverse), John Mercanti (reverse)
Composition: 99.93% silver, 0.07% copper
Weight: 31.101 grams (1.000 ounces)
Diameter: 40.6 mm (1.598 inches)
Thickness: 2.98 mm (0.117 inches)
Edge: Reeded

< 2012 San Francisco Silver Eagle Set | 2013 West Point Silver Eagle Set >