The 1990 Silver Eagle (Buy on eBay) showed another incremental increase for bullion coin mintage as the price of silver declined. This represented the second annual sales increase following the sharp decline experienced after the first full year of sales. For 1990, the United States Mint produced and sold a total of 5,840,000 bullion Silver Eagles.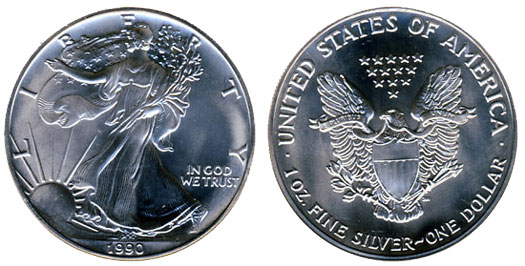 Proof Coin
The 1990 Proof Silver Eagle (Buy on eBay) saw sales increase once again to 695,510, which would come to represent a temporary high point. After this year, a higher proof mintage would not be seen until 2001. These proof coins were minted for collectors with a high quality cameo proof finish and packaged in velvet cases with a certificate of authenticity. They were originally offered for $23.00 each.
Perfect NGC PF 70 Ultra Cameo graded proof coins are attainable, but MS 70 coins are more elusive. In PCGS holders, perfect coins are scarce for proof and nonexistent for bullion coins.
The average price of silver during 1990 was $4.83 per ounce. The highest price during the year was $5.35 per ounce, and the lowest price was $3.95 per ounce.
1990 Silver Eagle Mintages
Bullion Mintage:5,840,110
Proof Mintage: 695,510
Coin Specifications
Mint Mark: none (bullion), S (proof)
Designers: Adolph A. Weinman (obverse), John Mercanti (reverse)
Composition: 99.93% silver, 0.07% copper
Weight: 31.101 grams (1.000 ounces)
Diameter: 40.6 mm (1.598 inches)
Thickness: 2.98 mm (0.117 inches)
Edge: Reeded

< 1989 Silver Eagle | 1991 Silver Eagle >