The 2006 Silver Eagle (Buy on eBay) marked the twentieth anniversary for the popular bullion and collector coin series. The United States Mint issued the standard bullion version of the coin and the collectible proof version. This year they also introduced a second collectible version of the coin and offered special sets to celebrate the anniversary.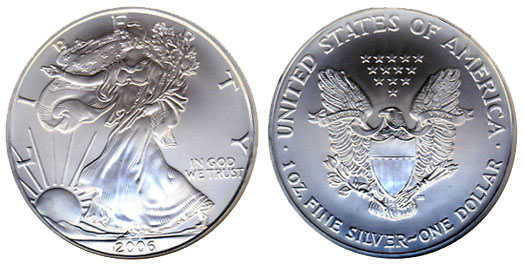 The bullion version of the coin experienced a higher mintage as the price of silver continued to rise. The bullion 2006 Silver Eagle had a final mintage of 10,676,522. This represented the third time that the annual mintage exceeded the 10 million mark and marked the second highest total to date, although it would later be overshadowed by the higher mintages of 2008 and beyond.
Proof & Uncirculated Versions
The collector versions of the coin included the 2006 Proof Silver Eagle (Buy on eBay) released early in the year, and the 2006-W Uncirculated Silver Eagle (Buy on eBay) released late in the year. The proof coins were struck at the West Point Mint with the "W" mint mark and featured a cameo proof finish. They were offered with an unlimited mintage and priced at $27.95 each.
The newly introduced collectible uncirculated coins were struck on specially burnished blanks with a finish similar to the bullion coins. To further distinguish the collectible version, it also carried the "W" mint mark to designate mintage at the West Point Mint. These coins were offered individually for $19.95 each.
On August 30, 2006, the United States Mint began sales of the special 20th Anniversary Silver Eagle Set. This set contained one proof, one uncirculated, and one reverse proof Silver Eagle to mark the anniversary of the series. The sets were offered at $100 each with a maximum production of 250,000 set. This amount sold out in approximately two weeks.
For collectors of certified Silver Eagles, perfect graded proof coins in both NGC PF 70 Ultra Cameo and PCGS PR70DCAM are readily available. The 2006-W coins are readily available in NGC MS70 but tougher in PCGS MS 70. The bullion version of the coins are relatively available in either PCGS or NGC MS 70.
The overall average price of silver during 2005 was $11.54 per ounce, representing a significant rise from the prior year.
2006 Silver Eagle Mintages
Bullion Mintage: 10,676,522
Proof Mintage: 1,092,477*
Uncirculated (Burnished) Mintage: 466,573*
* includes coins sold in the 20th Anniversary Sets
Coin Specifications
Mint Mark: none (bullion), W (proof & uncirculated)
Designers: Adolph A. Weinman (obverse), John Mercanti (reverse)
Composition: 99.93% silver, 0.07% copper
Weight: 31.101 grams (1.000 ounces)
Diameter: 40.6 mm (1.598 inches)
Thickness: 2.98 mm (0.117 inches)
Edge: Reeded

< 2005 Silver Eagle | 20th Anniversary Set >