The 2008 Silver Eagle (Buy on eBay) saw its mintage surge to a new all time high, nearly doubling the prior record. The spike in demand came amidst a sharp increase in the price of silver and surging worldwide demand for precious metals. Demand was so intense that bullion sales had to be suspended during the year and resumed on a rationed basis. Periodic suspensions and rationing would continue for the popular silver bullion coin in the following years.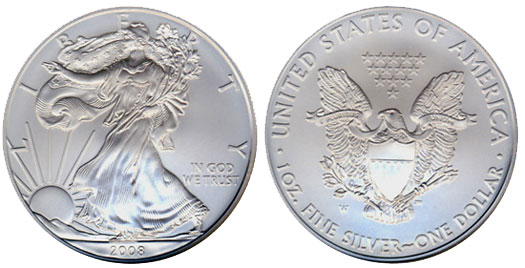 Proof Coin
The strong demand for precious metals also impacted the collectible coin offerings. The 2008 Proof Silver Eagle (Buy on eBay) had an unexpected sell out in August, which resulted in an immediate jump in secondary market prices. The reason behind the early sell out was the fact that the United States Mint had to use all incoming silver blanks for production of bullion coins, and could not strike additional proof coins. By law, the bullion coins must be produced in quantities sufficient to meet public demand, while the collector coins are not legally required.
Uncirculated Coin
In addition to the proof coin, the U.S. Mint also offered the 2008-W Uncirculated Silver Eagle (Buy on eBay). This was the third year of issue for the collectible uncirculated or burnished version of the coin. The overall mintage for this version of the coin declined from the prior year level. The coins were sold separately or included in the 2008 Annual Uncirculated Dollar Set.
The year included the first significant variety of the American Silver Eagle series. A small number of the collectible uncirculated coins were struck using the reverse dies of 2007. This created the variety known as the 2008-W Silver Eagle Reverse of 2007. Once the variety was discovered, prices quickly escalated as strong demand emerged.
For collectors of certified coins, perfect graded become relatively easier across the board. Coins are attainable in NGC and PCGS MS70, as well as NGC PF 70 Ultra Cameo and PCGS PR70DCAM.
The overall average price of silver during 2008 was $13.28 per ounce.
2008 Silver Eagle Mintages
Bullion Mintage: 20,583,000
Proof Mintage: 700,979
Uncirculated (Burnished) Mintage: 533,757*
*includes coins from the Annual Uncirculated Dollar Set
Coin Specifications
Mint Mark: none (bullion), W (proof & uncirculated)
Designers: Adolph A. Weinman (obverse), John Mercanti (reverse)
Composition: 99.93% silver, 0.07% copper
Weight: 31.101 grams (1.000 ounces)
Diameter: 40.6 mm (1.598 inches)
Thickness: 2.98 mm (0.117 inches)
Edge: Reeded
< 2007 Silver Eagle | 2008-W Silver Eagle >