As the inaugural year of the series, the 1986 Silver Eagle (Buy on eBay) remains popular with collectors. However, mintages were high enough to keep premiums at a minimum. Even though the bullion coin was only sold for the final two months of the year, more than five million coins were purchased. The Silver Eagle bullion mintage level would jump in the following year when the coins were available for the full twelve months.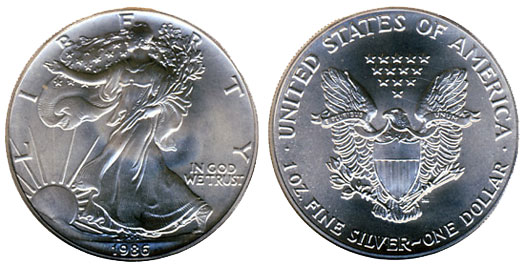 Proof Coin
The 1986 Proof Silver Eagle (Buy on eBay) actually has the highest mintage for a proof coin of the series to date. There were a total of 1,446,778 produced at the San Francisco Mint with the "S" mint mark. The U.S. Mint originally offered the coins for sale at $21.00 each. The coins were sold individually and packaged in a velvet presentation case and outer box, which were purple in color. A certificate of authenticity signed by Mint Director Donna Pope was also included.
Certified coin collectors will have a difficult time locating this year in perfect PCGS MS70 grade, although a relatively high number of NGC coins have been graded as such. Coins graded Proof 70 are more readily acquired from both services.
The average price of silver during 1986 was $5.47 per ounce.
1986 Silver Eagle Mintages
Bullion Mintage: 5,393,005
Proof Mintage: 1,446,778
Coin Specifications
Mint Mark: none (bullion), S (proof)
Designers: Adolph A. Weinman (obverse), John Mercanti (reverse)
Composition: 99.93% silver, 0.07% copper
Weight: 31.101 grams (1.000 ounces)
Diameter: 40.6 mm (1.598 inches)
Thickness: 2.98 mm (0.117 inches)
Edge: Reeded